We are a site dedicated to pouring slime over as many women as possible!
Currently offering 35% off entire store and buy 3 get 1 free.
Latest Scenes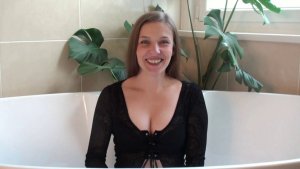 Cash, Clothes Or Custard--Karen
added
12 days ago
Remember Karen? She came along back in August with her friend Leigh? They were a bit of a handful, and the normal Clothes or Custard rules went straight out the window, so it seemed only fair to inv...
see more

The Best Of Cash Or Custard
added
10/10/13
Cash Or Custard is our simplest game show. The rules of the game are as follows: There are seven envelopes; three get the contestant strip an item of clothing. Three get her gunged. One contains t...
see more

The Best Of The Vote--Video Bundle #1
added
10/9/13
The Vote is our long running game show where we take two friends and put them up against each other in a public vote. They both get to make an appeal to camera as to why they shouldn't be slimed and/...
see more

The Charlie Atwell Bundle
added
9/13/13
Charlie created a huge stir when she first showed up on GungeGirls.com--she is a popular model in the UK and featured on Page 3 and in a bunch of lads mags. We were very fortunate to get her into our...
see more

The Fi Stevens Bundle
added
9/11/13
Fi Stevens has been the most popular girl to feature on GungeGirls.com--with good reason! Fi has never missed an opportunity to drop by the studios and get involved in the fun--wether it's bringing a...
see more

Battle Of The Bikinis!
added
9/8/13
Girls in bikinis covering themselves or each other in goo. That was a great sentence to type! This is a collection of our favorite GungeGirls.com videos featuring the girls in their bikinis. It's a...
see more
Get email notifications about all new downloads